We can hardly believe it's almost that time.
Yes, it's time to start thinking about your Black Friday sales!
The holiday season seems like ages away, especially if you still have a vacation or two planned before summer is over. But it's going to be here before you know it.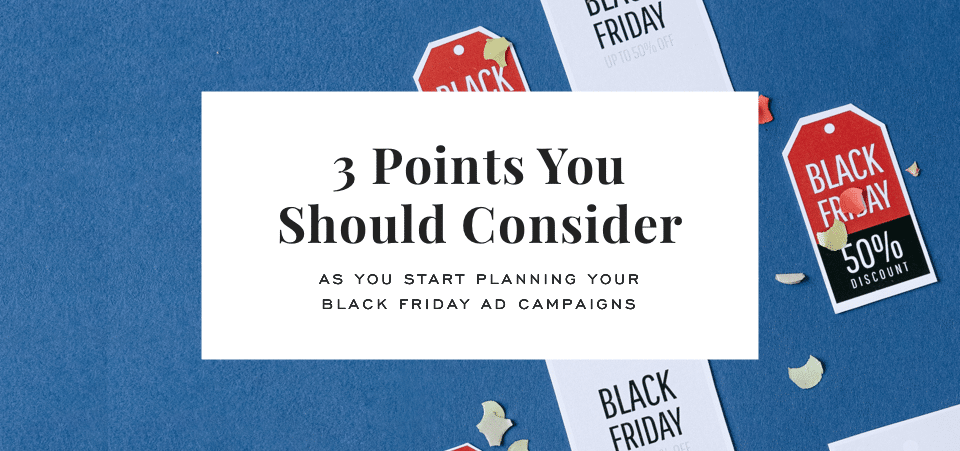 1. Yes, Early Planning Is Imperative
Successful Black Friday campaigns don't come together in a few weeks.
Even if you aren't actually putting plans in motion, you should start preparing as early as July or August for what offer you want to make and how you want to promote it.
(In other words, if you haven't started thinking about Black Friday… start now!)
In the past, Black Friday was sometimes one day, maybe a whole weekend. But these days, Black Friday sales could be the whole week leading up to Thanksgiving, or even the whole month of November.
Nobody will be upset if you want to start your sale early. That just makes it more convenient for your customers to take advantage.
However, there is a caveat: You don't want to announce your sale so far in advance that customers decide to hold off on purchasing.
If you let people know in September that your product will be available at 50% off through the entire month of November, that's going to slow down business over the next two months!
(This is actually something we talked about last year on an episode of our podcast. Did you miss it? Give it a listen now!)
2. Ad Costs Increase… But So Does Your Return
Don't panic when you see that ads cost a bit more during the fourth quarter.
That's normal — it's a matter of supply and demand. Every business is trying to run ads leading up to the holiday season, so rates tend to be a little higher.
The good news? With those higher ad costs comes a higher return on your ad spend (ROAS).
In other words, even though you're spending more on ads this time of year, you're making back a higher percentage than you would even if you were paying lower ad rates.
Exactly how much higher? In 2020, most of our clients saw about 25% greater return on their ad spend for Black Friday sales!
Your ad spend will depend on your budget and possibly the cost of your product, but we recommend you spend no less than $50 a day in the weeks leading up to Black Friday.
While you can spend less (and should if that's what your budget allows!), spending more allows you to quickly learn and adjust your ads if needed. That's important any time of the year, but especially when the crunch is on during the fourth quarter.
So if you can afford to spend more this time of year, you should do it!
3. Keep It Simple
You've probably heard this bit of marketing wisdom before: A confused mind always says no.
If people have to think too much, they're going to opt out and turn their attention somewhere else.
Hey, it makes sense. The holidays can be a stressful time for a lot of people — they've got a long to-do list and plenty of loved ones to shop for. They're not going to sit there and try to figure out something that sounds like this:
"Buy one, get one free + 25% off + free shipping if you order 4 or more products"
Nope. No, thanks!
If you've got a complicated sale like that, people are likely to go take advantage of some other sale that's easier to understand.
Keeping your sale simple means offering them a discount where they can probably do the math in their head fairly quickly and won't have to write anything down.
Stick to things like 25% off, BOGO, or free shipping, but not a combination of any two or more.
Listen to Our Podcast to Learn More!
We just gave you a lot of info, and we know these kinds of deets aren't always the easiest thing to read through. Maybe it's better to listen instead…
While we can't say exactly what kind of shopping habits you're going to see from customers this holiday season, we do have some of our thoughts on 2020's Black Friday sales.
(Spoiler alert: most businesses saw a lot of success!)
Check out that episode of our podcast below: Our Thoughts on What Worked (And What Didn't)