It's still a little early to start planning for Black Friday…or is it? Our expert opinion is a hard no, it's never too early to start planning for Black Friday. We'll even go so far as to say you need to start planning your Black Friday sales and marketing early, because if you wait until November, you're too late.
So, check your calendar right now—even if you're behind your ideal schedule, that doesn't mean you're doomed to have an unsuccessful Black Friday. It just means you might have a little bit of catching up to do.
Black Friday sales can be intimidating because so much of your fourth-quarter success depends on them. But when you do them right, you'll likely see numbers you can be very excited about.
Here are three pieces of Black Friday advice we give our clients every year: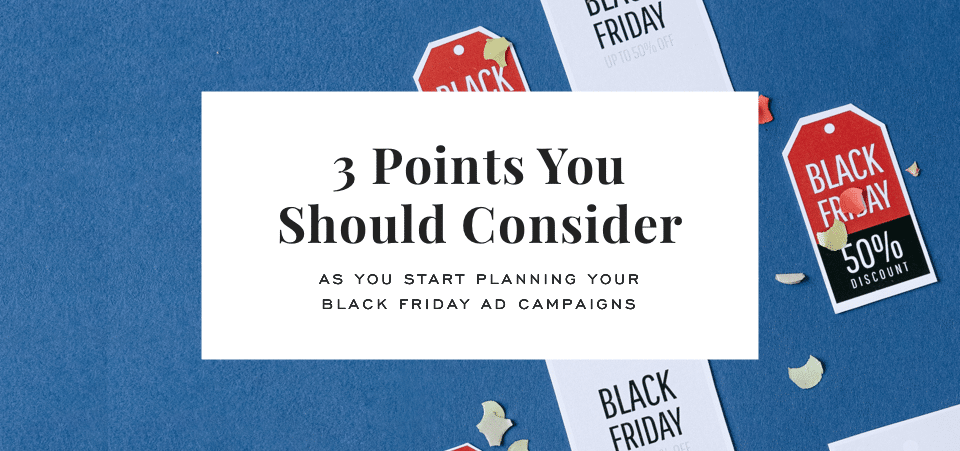 1. Start Early
No advertising campaign happens overnight. It's even tough to pull off some advertising campaigns in just a couple of weeks. And for an advertising campaign as big and important as Black Friday, it's best to start preparing as early as possible. Ideally, that means at the end of the summer.
Why so early? You want to figure out what kind of special you're going to offer, make sure your inventory is properly stocked, and set dates for 1) when the sale will start, and 2) when you'll start promoting it.
Black Friday sales aren't just about Black Friday anymore. To keep it convenient for customers, some businesses start their sales in early November. If your competitors start their sale that early, you could miss out by waiting too long. You want to be ready to launch earlier than expected if you need to.
And while a sale in early November might warrant marketing in mid to late October, that doesn't mean you should start announcing details too early. After all, if you start promoting Black Friday in September, that could slow down business for you because people will hold off on spending for the next two months.
2. Invest More
Be ready to spend a little bit more money on ads this time of year. We know, we know, that's not what anybody wants to hear. But remember the law of supply and demand—when more people are trying to run ads (and everyone is trying to run ads this time of year), it ends up making those ads a little bit more expensive.
The good news is that even though you're spending more, you're also going to be making a lot more. A well-advertised Black Friday sale will yield a higher return on ad spending than even a great sale any other time of the year. We even have the numbers to prove it—our clients saw 35.5% higher return on their ad spend for Black Friday sales in 2021 and 25% higher return on Black Friday sales in 2020.
Now it's a question of how much you're actually going to spend. That will be different for everyone. It all depends on your advertising budget and the cost of your product. But our recommendation is that you always spend at least $50 per day in the weeks leading up to Black Friday. Yes, you could spend less, but that $50 minimum will help you determine very quickly what's working and what's not, so you can then adjust your ads as needed.
3. Stay Simple
It's tempting to offer lots of discounts and special rates for the holiday season, but that's going to quickly get confusing. Imagine hearing this: "Buy one, get one free + 25% off + free shipping if you order 4 or more products!"
Did you follow that? Because we sure didn't (and we're the ones who wrote it just now).
Instead, you want to come up with something that people can instantly process and recognize as a good deal. They shouldn't have to think too hard. A confused mind always says no, and if people find themselves struggling to understand your sale, they'll decide to take their business elsewhere. After all, the holidays are stressful enough without having to figure out how much money they can hope to save.
The simplest and best sales to run for your Black Friday promotions are:
· A percentage off (25%, 50%, etc.)
· Buy one, get one
· Free shipping
Use one of these specials and don't try to combine—it just gets too complicated!
And there you are—three tips that will help you plan a successful and lucrative Black Friday. Want further insight? We actually discussed Black Friday in an episode of our podcast that you might find interesting. Go back and give it a listen here.